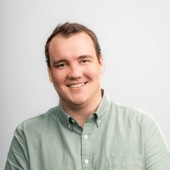 Jon Berglund
Sales Team Lead – Sales
I'm acting as a Sales Team Lead on the Swedish market. Besides doing sales work, customer meetings, and sales calls, I'm responsible for the daily functions of the sales team. My team consists of five people. Globally I work with our Sales Director, the other Sales teams in Finland and Norway, Sales Data Coordinator, Head of Customer Success, Head of Marketing, and the Development team.
I value the flexible way of working. I'm allowed to have flexible days and be able to work from wherever. I also enjoy the trust we have in each other on getting things done.
As a salesperson, I get to meet a whole lot of different people from different companies and different backgrounds which I find very rewarding. Sales is also a very interesting job because you find out what does and what doesn't work quite quickly when trying out new things.
I like that we all know how to have fun! Everybody is easygoing and great people.