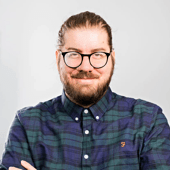 Samuli Koskinen
UX Designer – Experience
I'm working at Eduhouse as a UX designer. My job is to conduct product discovery and design the visual look and the user interface of our app, to find the best solutions and to provide a better user experience for our customers.
I'm part of the Experience team which directs product development and collects information from all the stakeholders company-wide. We also have two product owners and a customer experience designer in the team led by the CPO. I work closely with the Development team and provide them with designs and solutions concerning UX matters. This said I'm pretty much dealing with almost everyone in the company regardless of where they are located.
As an employee, I value the freedom and the responsibility brought by it to do my work the way I see the best and the support of my skilled colleagues and supervisors. The best thing about working at Eduhouse is fundamental to do things correctly from the start without compromising on quality.
The most rewarding thing in my daily work is to get positive feedback from the users after releasing a new feature on the app.
The Eduhouse work culture is progressive and fresh which keeps things interesting.